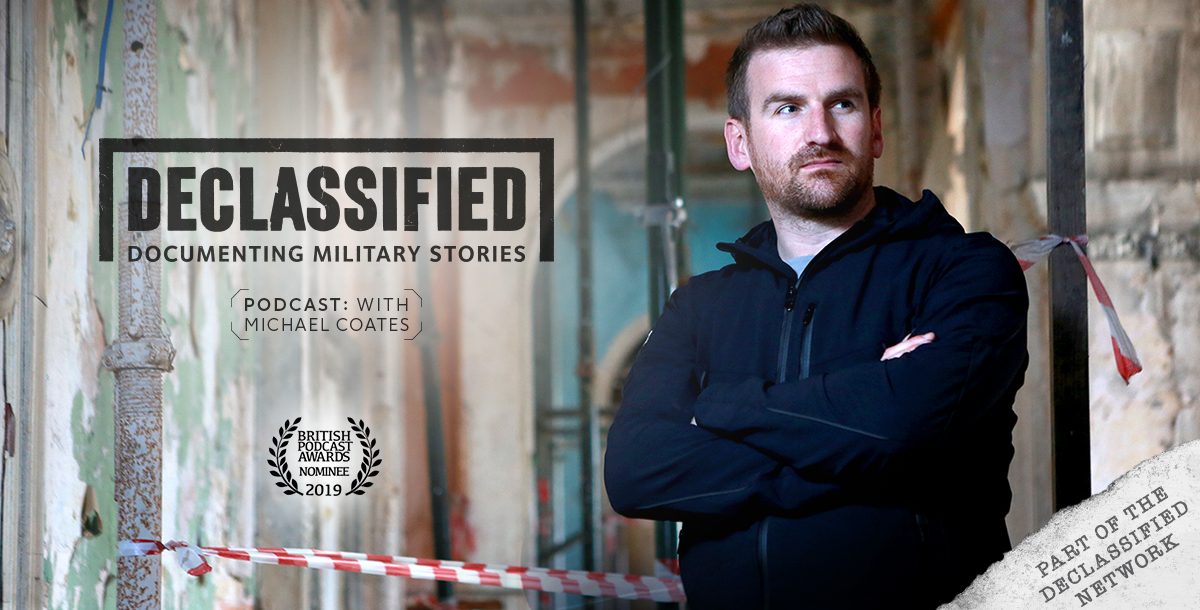 a military community - mutual support
The DECLASSIFIED podcast series came to our attention in 2019 - Brian Wood's extraordinary story of bravery on the battlefield and treachery in the courtrooms kicked off a body of work that looks at the stories that embody a community, its people, and its values. Challenging the convention that the words 'Post Traumatic Stress' are inevitably followed by 'Disorder' - Declassified changes the conversation.
Post Traumatic Growth recognises that tension and stress can in turn build strength, resilience, perspective, and compassion. The Growth Generation has a huge amount to offer, and Mission Motorsport was created to do our part - to help those who have served to fulfil their potential.
The short articles below are aimed at the Service Leaver - or the veteran who feels that they aren't yet where they need to be. They are written by veterans, for members of that military community. Firstly - Michael Coates, formerly Royal Engineer, and host of the Declassified podcast:
The 'Growth Generation' is a phrase I coined to describe those who served on operations in Iraq and Afghanistan between 2001 and 2016 - MICHAEL COATES
During this time, an intense period of war took place. Those who fought endured prolonged spells of heavy fighting in risk areas, resulting in stress, pressure and trauma. But that's not the whole story. These experiences have also spurred this generation to develop in ways that have had a profound effect on the people around them and the organisations they lead. In the mainstream media, we often hear about the negatives of war and conflict. We rarely hear about the positives. But if you look carefully, there are inspirational stories of 'post traumatic growth' and 'post conflict growth' growth to be shared. It is true that Iraq and Afghanistan has made a permanent dent on our society. It will be spoken, written and debated about for many decades and centuries to come. But what I also feel confident about is what the Growth Generation (those who served in conflict and grew as a result) can teach the rest of us. They relate to 6 key topics: world view, strength, ability, acceptance, relationships and wellness. Let me explain:
World View – an individual's world view can be influenced by many factors including the country you were born in, religion, culture and also conflict. I see it time and time again: those who have experienced trauma, life-threatening risk and situations of prolonged stress, have developed a more relaxed and accepting world view. As long as individuals or organisations aren't impacting the happiness of others, their view is: live and let live.
Strength – many talk about finding strength that just wasn't there before the trauma. Maybe it's physical strength, which is often found in participants of the Invictus games. Or mental resilience, which comes from facing huge and previously daunting challenges like scaling mountains, public speaking or setting up a business. This 'I can survive' attitude makes other endeavours somewhat more attainable.
Ability – others find new abilities and skills through trauma and conflict. New situations demand new solutions and innovation takes place. For example, the medical advancement in blood transfusions, plastic surgery and prosthetics has been incredible. Looked at from another angle, the ability to seek help (and encourage others to do the same) means this generation are publicising issues, breaking down stigma and changing society for the better.
THE GROWTH GENERATION
Acceptance – recently, a friend told me he had accepted the traumatic experiences that have happened to him. And how his acceptance was encouraging others to do the same. What I have found is that this Growth Generation are taking acceptance to another level. They are using it to positively impact others affected by conflict. Whether that is providing education to children, training local medics, fundraising or advocating peace, this community is achieving great things.
Relationships – spending time away from loved ones can naturally create issues and problems. Returning can be equally turbulent, especially when it comes to understanding what both parties have been through. But, those that have been through adversity, are showing signs of closer bonds with siblings, partners, children and friends. They also develop closer relationships with team mates in civilian life, which can result in happier and more productive departments and organisations. I personally have experienced this with several of the podcast guests. A close friendship has developed as a result of our conversations.
Wellness – understanding and managing your own body and mind is key to longterm wellness. I have learned some remarkable lessons from those around me. The most important of those is the need to have a metaphorical toolkit to help look after yourself. Everyone is different. And different people need different things. But it could be: physical exercise, avoiding alcohol, using breathing techniques, yoga, spending time in nature, reconnecting with family and understanding the importance of meaningful employment and really making your mark doing something you love. Many of my friends who have served on many operational tours are now seeking purpose and meaning to aid in their own longterm happiness and wellbeing. Here's my take. The Growth Generation teaches us how to become a better, stronger, more accepting individual who seeks meaning, purpose and holds values above everything else. The ability to grow because of your traumatic experiences isn't limited to members of the military but extends to members of our emergency services, survivors or sexual abuse, PTSD sufferers and those who have overcome a plethora of traumatic experiences. However, our military community is a shining example and role model to all walks of life that the trauma isn't the end. It can be the beginning.
- MC
Transitioning from military to civilian life? You'll want to nail these 3 skills - sean jones mc
Take it from me: the transition from military to civilian life can be difficult. It can be lonely and full of unknowns, especially after a long career. So how can you arm yourself with the skills you need for the road ahead?
For me, the transition was slightly different. I was medically discharged (which I was not expecting). But the good thing was, I had plenty of time to transition effectively and there was loads of help to assure me that everything would be ok.
Getting stuck in
So where did I start? Straight off, I was only concerned with wages. I was hell bent on not accepting anything less than what I was currently on in the army. I went to the career transition meeting early on where they helped me to construct a basic CV and made me aware of the various job search engines.
But what role could I transition to? My idea was to play to my strengths with planning, projects and facilities management as it was all relatable work I had done within the military.
Cracking the CV
Your CV is so important. Getting on with it as early as possible is a must.
One of the things I realised quickly was that your CV creates a vital first impression. And it takes time to get it right.
I would create my CV and email it to someone I knew or had met over the years (whether that be officers or friends that had moved on) to ask them for feedback. I would then repeat the process again and again. Eventually, I got to a point where I sent my working CV off to a professional CV writer to change what I finally had and put it into a better layout and language.
Next, I attended a Jobs Fair. The opportunities were limited due to my qualifications, but I was liked on paper and in person. I had planned to gain qualifications within the project management world, which again I had spoken to various ex-colleagues about and they advised me on the ones to go for.
The 3 skills crucial to your success
Aside from the CV, there were 3 skills that were vital to my transition. These helped me to get to where I am today:
· Network – Establishing a network of the right people is key. These could be people that you're not necessarily friends with, but you know of, or are friends of friends. Another great thing is learning how to adapt to the civilian space. Believe it or not, the military environment talks and acts differently to the civilian space. Learning to adapt yourself to this new environment is key. So how do you do it? Surround yourself with positive influences early on and observe what they are doing and try to meet for a coffee for advice as early as possible. Networks can lead to work and that is a fact.
· Development – Develop yourself through courses available to you through your resettlement. These courses don't have to be at a huge cost, you can find plenty of free courses online that provide value. Be prepared to develop your personality and thought processes. As an individual, I spent plenty of time learning about myself and how I could be a better person, this helped my network and the relationships I built. This is a clear area to focus on because by developing yourself, you help grow your network, and by growing your network, you create more opportunities.
· Opportunity – Take opportunities if they come to you. I took an opportunity for some work experience in a department in two different areas. I went to a factory to see how the project management department fits in and then I spent some time on a national project with the facilities management team. Taking these two opportunities, through the network I built, helped me see what was actually happening in these environments and whether that was where I wanted to work. I also took the opportunity to meet new people for lunch or coffee to further grow, develop and seek opportunities going forward, which in the end led to me being employed after leaving the Forces.
I would say around 75% of my interview process would have been conducted without me knowing it through the three points above.
Is there a perfect plan?
The perfect plan to transition from the military didn't work for me. The ideal world of look at a few courses, complete them and then apply for a job really was harder than I could of imagined. The truth is that whilst so many businesses out there value your time served in the military, it doesn't guarantee you a job. You have to work hard and keep applying for positions.
In my transition time, I applied for many jobs and had one interview for a wealth management company. The reason I got to interview stage was because of my CV, but I never got the job. The interview experience was great though.
The here and now.
The current job I hold as the Operations Manager at Combat Pest Control came through building a network, developing myself and being given an opportunity because of who I was as a person. Yes, Michael and Des obviously had to have a serious chat about me and see my CV, but that was through me asking them to review it for me. They saw my growth as a person over 9 months and offered me a position because of what they saw of me as a person.
I'm not telling you to not apply for jobs. But I am telling you is – more often than not – the 3 things that will determine your success when you transition from military to civilian life are: building your network, driving your development and being ready for whatever opportunity comes your way.
- SJ
How finding your purpose can alter the course of your life - Des Fraser
I was born in a deprived part of Merseyside. I was lucky to have an amazing mother and grandmother who taught me 5 core values.
They were: integrity, accountability, determination, commitment and respectfulness. These values are my compass in life. But even as a child, I knew that to escape the poverty, I had to have a purpose.
My purpose was to change the family norm and become a role model for future generations.
So here's what I did. At 15 years old, I decided to join the British Army. To achieve the levels of fitness and education they required meant I had to create some meaningful daily habits. So, I started to train 5 days per week. For the first two weeks, it was easy. Willpower carried me through. But by the third week, things were much tougher. The only thing that got me through was my purpose.
Once you're in the Army, they have a purpose for you – to become the best you can be. How do you achieve that? By sticking to those meaningful daily habits. For example, I would fold my shorts, T-shirt and trainers in a pile at the end of the bed. As soon as my alarm went off next morning, I would jump straight into my kit and get out the door – ready for action. Little habits that make a big difference.
So what is your purpose? And what habits do you need to put in place to help you work towards it? By understanding and defining your purpose it will help you grow as an individual, you will build resilience and habits that will guide you through all aspects of life.
Finding your purpose in business
For me, purpose is something that I live by at work too. I'm the co-founder of a company that has been built on a clear purpose. It's one of our greatest assets. Combat Pest Control Ltd was founded to Create Amazing Global Impacts.
To achieve this purpose, we have a clear vision:
1. Employ our military veterans, reservists and spouses.
2. Assist and educate children in conflict areas.
3. Protect our customers.
4. Support our injured service personnel.
This really is the backbone of our business and it guides all our team in the same direction. How do I use this on my entrepreneurial journey? Well, if a big decision has to be made, I ask myself:
· Is this going to drive forward our purpose?
· Does it fit with our vision?
If the answer is no, then I simply don't do it. If it's yes, then we go full steam ahead. Our team members are encouraged to ask the same question. It's crucial to our culture.
Creating a set of core values and a clear ethos to underpin your purpose and vision is vital. Some of the values we stand by at Combat are: be open minded, happy, have an unrelenting pursuit of excellence, have self-discipline and be accountable.
We have a simple ethos too:
First - look after yourself and your family.
Next - protect the company and our clients.
Then - care for the wider military & local community.
Finally - take responsibility for the greater good.
We hold team meetings every 3 months and hold ourselves accountable to this.
Habits that glue it all together
Our life is a series of habits. These are learnt behaviours that we can change at anytime to help us achieve our purpose.
At Combat, our purpose is to Create Amazing Global Impacts. To help us achieve this, we put in place a habit of counting how many invoices we have had for that month and donating the equivalent number days of education to Afghan street children. To date, we have given over 3,000 days via B1G1 giving platform. That habit is changing the world and helping us to achieve our aim of taking responsibility for the greater good.
We also employ 9 veterans and reservists or spouses and receive great reviews from our customers for protecting them. What's more, we support our injured service personnel with our podcast Declassified and by raising money and awareness for Combat Stress (the mental health charity) and The Poppy Factory.
To summarise, life and business lived with a purpose can achieve more than you ever thought possible. And putting in place meaningful daily habits help us get there. Think big and change the world.
What is your purpose in life and in business? What habits have you put in place to help you achieve it?
- DF
How developing mental and physical resilience can help you withstand life's toughest challenges - Brian Wood MC
What part does mental and physical fitness play in your life?
For me, it has been crucial in helping me tackle some of the toughest situations I've faced.
Train hard, fight easy
The British military has been on operations for two decades. For a long time, we've been fighting two wars simultaneously. An operational tour is testing to any solider, but repeated close-combat tours over a decade is challenging to even the most resilient.
As a leader of men, I was a big believer in the motto: "train hard, fight easy". Here's why.
I knew that if my men were trained and physically fit, they had a better chance of survival – should the worst happen to them. Their bodies would be strong enough to either pull through that crucial first hour after an injury. Or, they would be strong enough to physically carry another person out of the firefight.
Dig deep
The desert of Southern Iraq and the green zone of Helmand province were unforgiving environments to fight in. Often, this would be compounded by the heat of summer. This environment places a real demand on the body. I knew that when my men got tired, they wouldn't be as effective. This is where mental fitness was key. Having the right mindset was crucial to survival.
I remember applying mental resilience when I was tasked to resupply Cimic House in Iraq 2004. Cimic House was an isolated outpost in the centre of Al-Amarah that saw some of the heaviest fighting in the whole of the Iraq campaign. It needed constant resupply, particularly of ammunition and water. On one particular supply run, we were hit hard by the local militia and it took hours to move even a short distance across the city. By the time we got to Cimic House, I was fatigued from both the heat and physical exertion, and mentally drained.
I knew we still had to fight our way back out of Al-Amarah and I had to dig deep, both physically and mentally, to motivate myself and the soldiers under my command. Whilst it can be taxing to be a leader at times, in this case I drew strength from my position of command, and point-blank refused to lower my standards and let down my section.
How do you develop resilience?
From my own experiences, I believe staying strong, developing good habits and always looking for ways to grow. But you can only grow and develop your own resilience when you're outside your comfort zone. For me, it was battling through Al-Amarah, but for you it could be learning a new skill or running a marathon.
And what happens when the challenge is over? It's important to reward yourself or your team for maintaining good morale and being prepared for the worst course of action. This moment of reflection helps to embed mental and physical resilience in your (or your team's) character.
The bottom line
I believe that mental and physical resilience is crucial to help you withstand life's toughest challenges. They both go together hand in hand. Hopefully my story will help inspire you to develop yours.
- BW
3 ways to supercharge your development - Michael Coates
What's the secret to self-development? How do you become the best version of you?
Over the last 24 months, I have seen huge personal development in myself and in turn, I have been able to support and guide others. But here's the truth. I don't really know that I'm doing… not really. In business, I'm a minnow with a basic understanding of many things. But over the last 2 years, I've learned a lot about myself. I have a better understanding of what I'm good at and what I'm not so good at.
As far as not knowing what I'm doing, I suppose I'm being harsh on myself. I don't feel I have 'imposter' syndrome anymore. I can hold my own at a 'business meeting' (whatever that is these days). And our veteran-owned company, Combat Pest Control, is going from strength to strength. Amazingly, our Declassified podcast is achieving more than I ever thought possible. But I still feel that any success is down to others and little to do with myself. Which is a good place to start.
When it comes to self-development, you need a team or a network to help you grow.
Build your team/community
It sounds like a cliché, but creating a team or network that will help you grow is vital.
You don't have to go out and employ people, or even subcontract, but being around those that push, inspire and drive you is a key component of your individual growth. So, first things first, think about who you choose to spend time with, share ideas with, trust, collaborate, network, employ, work with and even share a coffee. These people impact your life greatly, so pick wisely.
Take the film, Avengers. Each member of that team compliments the other with their skillset and personality traits. When you're building your team, or network, here's what to bear in mind: if you're the Hulk, don't partner up with another Hulk. Find Spiderman or Wonder Woman. And while you're at it, cut down the time you spend with people who drain you or impact you negatively.
Feed your mind
Unlikeany other time in human history, we now face a barrage of information - from the moment we wake up, until the moment we go to sleep. Advertisers, social media giants, sports clubs and more – all pitching for your attention. So, it's down to you to break through the chaos and make some decisions. What blogs do you want to read? Whose podcast do you want to listen to? Which Twitter accounts do you want to engage with?
How do you invest your time wisely, so it benefits your growth? Here is my advice: don't consume bo**ocks. I don't have a TV. I only follow social media accounts that I think will add value to me. I genuinely thought 'Love Island' was a survival show until last night.
For me, flicking through Instagram aimlessly in search of the holy grail is a waste of time. However, listening to a podcast that broadens your views, or makes you think differently, is time well spent. Equally, having a Twitter conversation with someone who inspires you, liking an organisation you aspire to be or consuming video on Facebook Watch can be invaluable.
Top up your training
Invest time and money in yourself. Continuous training in the Military and Fire Service has allowed me to achieve and encompass new skills. But not only that, training courses have promoted other skills like self-discipline, drive and problem solving. Training should be enjoyable and fairly specific to the industry you are in, have an interest in or an industry you want to enter later on so think short, medium and long term.
Mentoring
Find a mentor and, when the time is right, become a mentor. I was fortunate enough to have several trusted individuals and organisations I could speak to. Mentors can be both formal and informal. But remember, don't pay for a mentor until your career progression dictates. Of course, there are great paid coaches and mentors. But try to find someone who can give you sound advice, support and guidance – with no hidden agenda. The military community is full of amazing people, so get out there and ask for help.
Stage two: mentor others. This can be as simple as:
· Letting a mate know what worked for you when leaving the Armed Forces
· Helping a smaller business grow by providing best practice
· Forwarding an article to someone you think could benefit
· Or more formally, you can also give your own thoughts to individuals and organisations to help them develop.
In the past, I've sought advice on everything from training courses to financial predications, growing a business to writing a book, creating a podcast… in fact pretty much everything I have done. Now, it's my turn to give support to others. I guide some people on a one-to-one basis and, to reach a wider audience, I created the Declassified, our forces friendly podcast.
Summary
So what is the best way to supercharge your development and create the right conditions to grow? It's simple. Have the right team/community around you, feed your mind and consume the right content, select the right training programme and having mentors who will enable you to be much more informed and able to grow, develop and thrive.
- MC